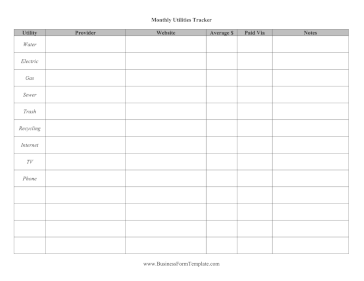 Utilities Tracker
Never miss paying a utilities bill again with the help of this tracker that has room to list due dates and payment amounts and websites for several services.
Editable versions of all 1,677 forms from this site.




My safe download promise

. Downloads are subject to this site's

term of use

.





Utilities Tracker
Fields: Utility (Water, Electric, Gas, Sewer, Trash, Recycling, Internet, TV, Phone), Provider, Website, Average Cost, Paid Via, Notes.