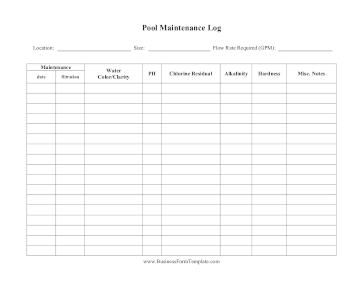 Pool Maintenance Log
A homeowner, property manager, or pool service contractor can use this log to keep track of chemical applications, cleaning, and other maintenance steps for a swimming pool.
50 editable homeowner and maintenance printables in one convenient download




My safe download promise

. Downloads are subject to this site's

term of use

.







Pool Maintenance Daily Report
Fields: Maintenance (date, filtration), Water Color/Clarity, PH, Chlorine Residual, Alkalinity, Hardness, Misc. Notes.