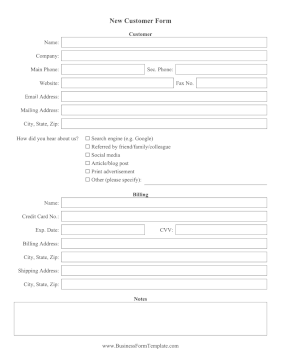 New Customer Form
This form can be used by businesses to collect contact information from new customers and determine where they learned about the business or service. There is also room for payment information for purchases.
Editable versions of all 1,677 forms from this site.




My safe download promise

. Downloads are subject to this site's

term of use

.





New Customer Form
Fields: Customer Name, Company, Main Phone, Second Phone, Website, Fax Number, Email Address, Mailing Address, City, State, Zip, How Did You Hear About Us?, Billing Name, Credit Card Number, Expiration Date, CVV, Billing Address, City, State, Zip, Shipping Address, City, State Zip, Notes.