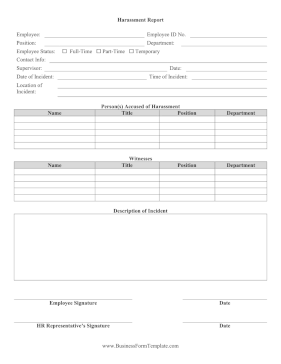 Harassment Report Form
Employees, in coordination with Human Resources, can use this form to record and report incidences of workplace harassment, including any witnesses.
Editable versions of all 1,677 forms from this site.




My safe download promise

. Downloads are subject to this site's

term of use

.




This Printable Business Form Template belongs to these categories:
employment
new

Harassment Report Form
Fields: Employee, Employee ID Number, Position, Department, Employee Status, Contact Information, Supervisor, Date, Date of Incident, Time of Incident, Location of Incident, Person(s) Accused of Harassment (Name, Title, Position, Department), Witnesses (Name, Title, Position, Department), Description of Incident, Signatures.