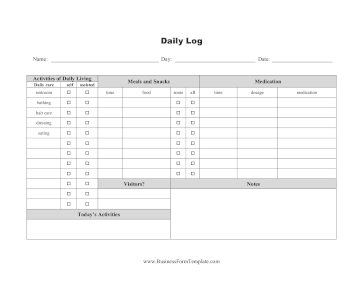 Elder Care Daily Log
The caregiver of an elderly person can use this log to note activities of daily living, food consumption, medication, and other daily details. It can be used by home health aides, in nursing home settings, and by family members.
Editable versions of all 1,677 forms from this site.




My safe download promise

. Downloads are subject to this site's

term of use

.







Daily Log
Fields: Activities of Daily Living (daily care, self, assisted), Meals and Snacks (time, food, some, all), Medication (time, dosage, medication), Today's Activities, Visitors, Notes.