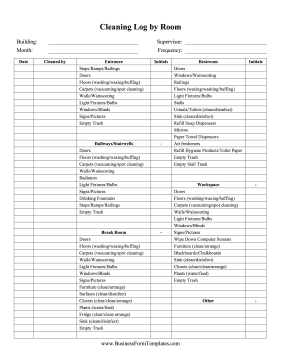 Cleaning Log By Room
Janitorial staff can break down the cleaning process by room for a school or business building with this printable cleaning log.
50 editable homeowner and maintenance printables in one convenient download




My safe download promise

. Downloads are subject to this site's

term of use

.




This Printable Business Form Template belongs to these categories:
log
Cleaning Log by Room
Fields: Building, Supervisor, Month, Frequency, Cleaned by, Date, Initials, Entrance, Steps/Ramps/Railings, Doors, Floors (washing/waxing/buffing), Carpets (vacuuming/spot cleaning), Walls/Wainscoting, Light Fixtures/Bulbs, Windows/Blinds, Signs/Pictures, Empty Trash, Hallways/Stairwells, Doors, Floors (washing/waxing/buffing), Carpets (vacuuming/spot cleaning), Walls/Wainscoting, Radiators, Light Fixtures/Bulbs, Signs/Pictures, Drinking Fountains, Steps/Ramps/Railings, Empty Trash, Break Room, Doors, Floors (washing/waxing/buffing), Carpets (vacuuming/spot cleaning), Walls/Wainscoting, Light Fixtures/Bulbs, Windows/Blinds, Signs/Pictures, Furniture (clean/arrange), Surfaces (clean/disinfect), Closets (clear/clean/arrange), Plants (water/feed), Fridge (clear/clean arrange), Sink (clean/disinfect), Empty Trash, Restroom, Doors, Windows/Wainscoting, Railings, Floors (waxing/washing/buffing), Light Fixtures/Bulbs, Stalls, Urinals/Toilets (clean/disinfect), Sink (clean/disinfect), Refill Soap Dispensers, Mirrors, Paper Towel Dispensers, Air fresheners, Refill Hygiene Products/Toilet Paper, Empty Trash, Empty Stall Trash, Workspace, Doors, Floors (washing/waxing/buffing), Carpets (vacuuming/spot cleaning), Walls/Wainscoting, Light Fixtures/Bulbs, Windows/Blinds, Signs/Pictures, Wipe Down Computer Screens, Furniture (clean/arrange), Blackboards/Chalkboards, Sink (clean/disinfect), Closets (clear/clean/arrange), Plants (water/feed), Empty Trash, Other