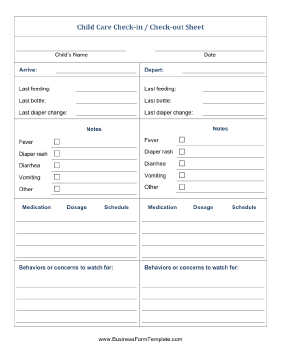 Childcare Check-In Sheet
This printable check-in and check-out sheet is designed for child care providers to present to parents at the end of each day. The caregiver notes feedings, medication, diaper changes, activities, behavior, and more.
Editable versions of all 1,677 forms from this site.




My safe download promise

. Downloads are subject to this site's

term of use

.




This Printable Business Form Template belongs to these categories:
sign
Child Care Check-In Sheet Fields: child's name, date, arrive, depart, last feeding, last bottle, last diaper change, fever, diaper rash, diarrhea, vomiting, other, medication, dosage, schedule, behaviors or concerns to watch for