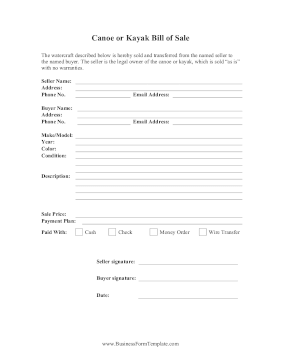 Canoe Or Kayak Bill Of Sale
This printable form makes it easier to record a sale or transfer of a canoe, kayak, rowboat, or other vessel that is propelled with oars or paddles and thus, in most areas, need not be registered with the department of motor vehicles.
Editable versions of all 1,677 forms from this site.




My safe download promise

. Downloads are subject to this site's

term of use

.




This Printable Business Form Template belongs to these categories:

receipt




Canoe or Kayak Bill of Sale
The watercraft described below is hereby sold and transferred from the named seller to the named buyer. The seller is the legal owner of the canoe or kayak, which is sold "as is" with no warranties.
Fields: Seller(s), Pilot License #, Address, Phone No., Email Address, Buyer(s), Make/Model, Year, Color, Condition, Description, Sale Price, Payment Plan, Payment Type, Signatures, Date.