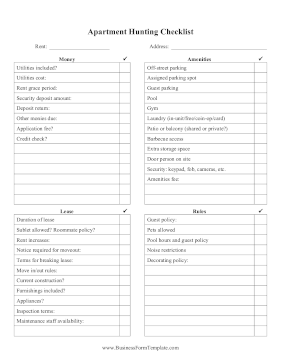 Apartment Hunting Checklist
When seeking to rent an apartment, this checklist can help you keep track of costs, lease terms, amenities, and rules at various properties.
Editable versions of all 1,677 forms from this site.




My safe download promise

. Downloads are subject to this site's

term of use

.




This Printable Business Form Template belongs to these categories:

realestate



Apartment Hunting Checklist
Money
Utilities included?
Utilities cost:
Rent grace period:
Security deposit amount:
Deposit return:
Other monies due:
Application fee?
Credit Check?
Amenities
Off-street parking
Assigned parking spot
Guest parking
Pool
Gym
Laundry (in-unit/free/coin-op/card)
Patio or balcony (shared or private?)
Barbecue access
Extra storage space
Door person on site
Security: keypad, fob, camera, etc.
Amenities fee:
Lease
Duration of lease
Sublet allowed? Roommate policy?
Rent increases:
Notice required for movement:
Terms for breaking lease:
Move in/out rules:
Current construction?
Furnishings included?
Appliances?
Inspection terms:
Maintenance staff availability:
Rules
Guest policy:
Pets allowed
Pool hours and guest policy
Noise restrictions
Decorating policy: